As a small business owner, you are likely aware of the many legal challenges that can come your way. Whether it's a contract dispute with a vendor or a customer complaint, litigation can be costly and time-consuming. Here are some tips to help you protect your small business from litigation: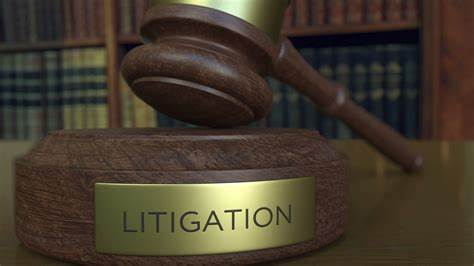 Have Clear and Concise Contracts
One of the best ways to protect your small business from potential litigation is to have strong contracts in place with your employees, vendors, and customers. Your contracts should clearly state what is expected of each party and what will happen if there is a breach of contract. Include provisions for dispute resolution so that minor disagreements don't escalate into major legal battles. Having well-written contracts can help prevent disputes from escalating into full-blown legal battles. Make sure all your contracts are clear and concise, and that both parties understand their obligations under the agreement
Purchase Adequate Insurance to Cover Being Sued
Another way to reduce your risk of being sued is to carry adequate insurance coverage. This will ensure that if your business is sued, you will have the financial resources available to fight the claim. Be sure to consult with your insurance agent or broker to determine what types and levels of coverage are right for your business.
Business liability insurance can help cover the costs of legal defense in the event that you are sued for damages caused by your business. This type of insurance is particularly important if you have customers or employees who could potentially file a lawsuit against you.
Keep Up to Date on Employment Laws and Compliance Issues
You can also help protect your small business from litigation by staying up to date on employment laws and compliance issues. Familiarize yourself with the requirements of the Americans with Disabilities Act, the Family and Medical Leave Act, and other relevant laws. In addition, make sure you have policies and procedures in place to prevent discrimination, harassment, and other potential legal problems.
Be clear about your expectations for employee conduct, and make sure they understand what is considered unacceptable behavior. Establishing and enforcing policies can help prevent disputes from arising in the first place.
Make Sure Your Employees are Properly Trained
Your employees are the front line of your business, so it's crucial that they are properly trained. They should know how to handle customer complaints, how to deal with difficult situations, and how to avoid potential legal pitfalls. By ensuring that your employees are properly trained, you can help avoid many costly legal disputes.
Be Responsive to Customer Complaints
 If a customer has a problem with your product or service, take the time to listen to their concerns and try to resolve the issue amicably. If you are unable to reach a resolution, consider mediation or arbitration as alternatives to litigation.
When exploring funding options which is most important to you?
Use Alternative Dispute Resolution Methods
Finally, consider using alternative dispute resolution methods such as mediation or arbitration to resolve disputes before they escalate into full-blown litigation. Alternative dispute resolution can often be faster and less expensive than going to court, and it can help preserve relationships between you and the other party.
Keep Accurate Records
Maintaining accurate financial records can help you prove your case if you are ever sued for breach of contract or fraud. Good record-keeping can also help you avoid tax problems down the road.
Be Proactive About Risk Management
The best way to protect your small business from litigation is to be proactive about risk management. By taking steps to identify and mitigate risks, you can help reduce the likelihood that your business will be involved in a legal dispute.
By following these tips, you can help protect your small business from costly litigation. If you do find yourself embroiled in a legal dispute, however, it's important to have an experienced business litigation attorney on your side.
Protect Your Business Data to Prevent Litigation
As a business owner, you know that data is critical to your success. You also know that protecting your data is vital to preventing litigation. Here are four tips to help you protect your business data:
Implement strong security measures.
Make sure your data is well-protected by implementing strong security measures. This includes using firewalls, encrypting sensitive information, and restricting access to authorized personnel only.
Develop a data backup and recovery plan.
In the event of a data breach or disaster, you need to be able to quickly and easily recover your data. Develop a robust backup and recovery plan so you can get your business up and running again as soon as possible.
Train your employees on data security.
Your employees are one of the most important lines of defense when it comes to data security. Make sure they are properly trained on how to protect company data. This includes knowing how to identify and report threats, as well as understanding and following company policies.
Stay up to date on data protection laws.
Data protection laws are constantly changing. Keep up to date on the latest developments so you can be sure your business complies. This will help you avoid costly fines and penalties.
By following these tips, you can help protect your business data and prevent litigation.
Keep a Litigation Attorney on Retainer
When you have a business, it's important to keep a litigation attorney on retainer. This way, if anything ever happens that requires legal action, you're already prepared. Having an attorney on retainer also gives you someone to consult with about any legal matters that come up, so you can make sure you're always in compliance with the law.
If you're not sure how to find a good litigation attorney, talk to your business associates and see if they have any recommendations. You can also look online for attorneys who specialize in business law. Once you've found a few potential candidates, schedule consultations with each one so you can learn more about their experience and expertise. Then, choose the attorney you feel most comfortable with and sign a retainer agreement.
By taking these steps, you'll be prepared for anything that comes up and can rest assured knowing you have the legal help you need.
In Conclusion
Litigation can disrupt a business's finances and without taking the necessary steps to prevent a lawsuit it could even destroy a business.  The cost to prevent it from happening is a better solution for the cost that will occur if you lose the litigation suit.
Looking for funds to upgrade your systems to prevent this from happening then Progressive Business Capital could be a great solution.  We offer many different types of business loans such as merchant cash advances, small business loans, invoice factoring, business lines of credit, and fixed-rate loans.
Don't find yourself needing funds to eliminate the possibility of being sued but reach out to us at (800) 508-4532 to discuss getting the funds to put the prevention tools in place.  You can also reach out to us via email at [email protected].