Merchant Cash Advances (MCAs) are an alternative to traditional small business loans. In this type of arrangement, you get a lump sum from an MCA provider. In return, you pay them a set percentage of your daily sales.
You will pay a percentage of your daily sales to the MCA provider until you repay the lump sum and all associated costs and fees. MCAs are flexible, easy to get, do not require a high credit score, and also don't require any additional collateral.
Any business can benefit from an MCA, but there are some industries where MCAs may be a better choice compared to other forms of small business funding. Let's look at them now in this blog from Progressive Business Capital.
1: Cafes & Restaurants
Restaurants and cafes can benefit from MCAs for a few reasons. The biggest reason is that cash flow can be a bit inconsistent from month-to-month, which may make it hard to repay a traditional loan with a set monthly payment. In contrast, MCAs provide you with more flexibility.
MCAs can also be spent on anything you need at your restaurant. From opening up a food truck, to purchasing extra inventory, hiring extra staff for your busy season, expanding to a new location or investing in new equipment, upgrades, or renovations for your current location – the opportunities are limitless.
2: Retail Stores
Retail is a highly seasonal business, especially for smaller stores. The holiday shopping season, in particular, is a time when retail stores may need to invest in more inventory, hire more staff, and prepare for a surge of sales.
That means an MCA is a great way to borrow money for retail stores. When sales are slow, you can repay less of your MCA, and when they speed up, you'll send more money toward your repayment.
In addition, MCA funds can help keep your business operational during the off-season and cover payroll, and then you can make up for your slower sales during the holiday season or your business's busy season, cover payroll, and pay for additional inventory and stock at your store.
3: Salons & Beauty Parlors
Credit card payments are the most common form of payment for salons and beauty parlors, so owners of these establishments are great candidates for merchant cash advances. This is doubly beneficial because salons and beauty parlors often suffer from seasonal lulls in customers, such as in the summer when many repeat customers take vacations or long trips.
Many employees are also part-time, so this leads to additional complexities when the busy season starts. In addition to this, making investments and upgrades in beauty equipment and renovations to beauty parlors tends to be quite expensive.
An MCA can help with these cash flow difficulties, make it easier to hire staff, and smooth out your overall finances throughout the year – or cover the cost of a business expansion or renovation.
4: Auto Repair & Body Shops
Unlike traditional bank loans, MCAs do not require collateral, which is a good thing for auto repair and body shops. If you have to put up collateral like valuable inventory, auto repair equipment and tools, the bank may be able to confiscate this equipment – which could put your business out of business.
In addition, auto repair businesses can have inconsistent cash flows if customers are not timely about paying for repairs. Since you must pay technicians, purchase expensive repair parts, and invest in pricey equipment up front, this can cause cash flow problems.
A merchant cash advance lets you get funds to cover operational expenses, buy new equipment, pay to market your business, or cover other costs at your business.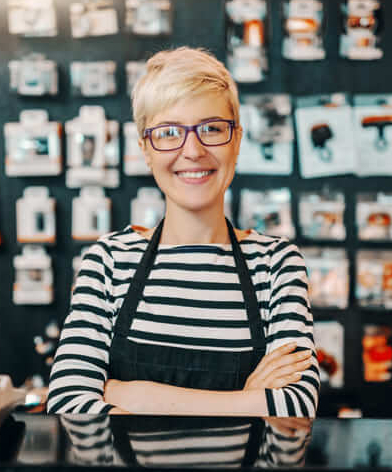 Any Business That Accepts Credit Cards Could Benefit From Merchant Cash Advances!
While businesses in these four industries definitely enjoy great benefits from MCAs, just about any small business that accepts credit cards can qualify for this type of financing. So if you're interested in MCAs, contact Progressive Business Capital online or give us a call at (800) 508-4532 to get funded in as little as 24 hours.