Wondering what options, you have to borrow money as a small business owner? If you own a cleaning service, here are a few of the most common types of loans that you can choose from. Learn more about each one from Progressive Business Capital now.
Business Line of Credit
This gives you access to a flexible source of funds that you can use whenever you want. A line of credit is sort of like a combination of a loan and a credit card. Your lender sets your interest rate and a maximum limit on your line of credit – $10,000, for example.
Then, you can borrow as much as you want up to your limit, and you'll only pay interest on what you borrow. This can be a great way to cover costs between invoices, or to pay for a large volume of supplies up-front.
Short-Term Online Loans
Lots of online lenders provide short-term loans for between 3-12 months. These usually have high interest rates, but it's easy to qualify for a loan, and you can get funds a lot faster compared to bank loans, so this is a good choice if you need to cover costs quickly and pay for a new marketing campaign, to hire more staff, repair equipment or for other such costs.
Bank Loans
Traditional bank loans usually have pretty low interest rates, but you will need good credit to qualify and get a loan for your cleaning service. The application process can also be very lengthy and complicated, and it could take weeks to get your money. Loan terms usually vary from 2-20 years.
Equipment Financing
This is a type of loan that's used specifically to pay for business equipment. For example, if you wanted to expand and offer laundry and dry-cleaning services at your business, you could take out a loan to finance washers and dryers and dry-cleaning equipment. The equipment you buy acts as collateral, so interest rates for equipment financing are often lower compared to other types of loans.
Merchant Cash Advances
This is not a type of loan at all, but a purchase of your future receivables in exchange for a lump sum cash advance. As an example, a Merchant Cash Advance (MCA) company may buy 10% of your credit card sales for $25,000.
Then, as you make sales, that portion of the sale will automatically be sent to the MCA provider. This will continue until the full lump sum and any other fees or charges have been repaid.
If you accept credit cards at your cleaning company and have a lot of credit card customers, this can be a great way to get funds. You can obtain cash very quickly, even if you have a low credit score.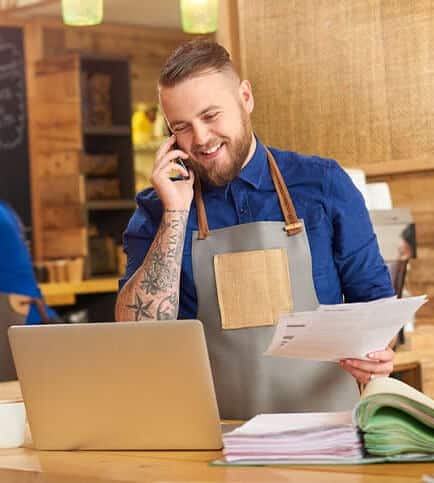 Explore Your Options with Progressive Business Capital
We offer both MCAs and online small business loans for cleaning services. If you're interested in exploring your options and need working capital for your business, Progressive Business Capital is here to help. Contact us online or call now at (800) 508-4532 to get started.