It can be disheartening to be rejected for a business loan, especially given how time-consuming it can be to apply for business financing. But it's not the end of the world. In this guide, Progressive Business Capital will discuss a few steps and strategies you should take after you've been denied for a business loan. Follow these tips – and increase your chances of being approved in the future!
1. Figure Out Why Your Application Was Denied
You can usually consult with your rejection letter and other paperwork to determine the reason that your business loan application was rejected. This is not always the case, however. You may need to contact the lender directly to find out why your application was denied.
This can help guide you as you determine the proper path forward. If your credit score is too low, for example, you can try to pay down personal and business debts and take steps to improve it before you re-apply.
2. Check Your Personal & Business Credit Scores
Your personal credit score matters for small business loans, so make sure you know your credit score when applying. But your business credit score matters, too. You can use this tool from Experian to check your business credit score.
Note that if your business is very new, you may not have a business credit score yet. In this case, lenders will primarily be concerned with your personal credit score.
3. Find Another Lender with Different Requirements
Not all lenders are the same. Each lender has its own unique requirements – and if you fail to meet even one of them, your loan application could be rejected. That's a good thing, though. Even if you are rejected by one lender, you may be able to find another one that's happy to issue you a loan.
Exploring online small business loans can be a good idea. Online lenders usually have more relaxed requirements for small businesses, though you may pay a higher interest rate since these lenders usually work with riskier borrowers.
4. Explore SBA Loans for your Business
SBA loans are backed by the Small Business Administration (SBA), a federal government agency. They generally have requirements that are easier to meet compared to traditional small business loans.
With an SBA loan, you may be able to get a loan with a lower credit score, avoid putting up collateral, and still get the money you need. This is a particularly good option for new startups or entrepreneurs.
5. Look for A Different Financing Option
There are many other alternatives to traditional small business loans, including merchant cash advances (MCAs), business lines of credit, business credit cards, invoice factoring, and a few others.
Some of these, like MCAs and invoice factoring, typically do not require any credit checks of any kind, so they may be a good option if you suspect your credit is the reason that you're being denied for small business loans.
If you can't get approved for a business loan, it's a good idea to explore these other alternatives, and see if you can get approved for a different type of small business financing.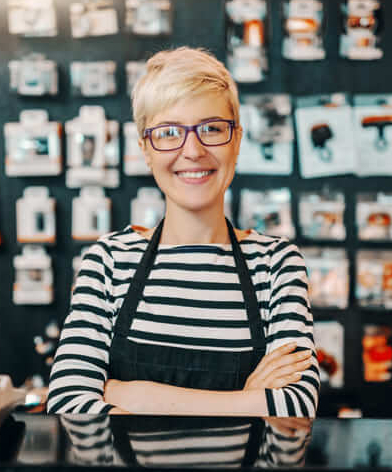 Interested in Merchant Cash Advances? Contact Progressive Business Capital Today!
At Progressive Business Capital, we assist small business owners with personal loans as well as MCAs. If you need working capital to fund your small business but are having trouble qualifying for a business loan, we're here to help. Contact us online or call at (800) 508-4532 to explore your options in further detail.