Small business owners are likely to have come across the terms invoice and receipt in their bookkeeping. It's possible that you already know what each term means. These terms may even be interchangeable.
Small business accountants will tell you that receipts, as well as invoices, are different. Although they may contain the same information, invoices and receipts are distinct documents that should not be confused.
This article will discuss the differences between receipts and invoices, their use, and why they are important to your business's accounting. Want to know the difference between a receipt and an invoice?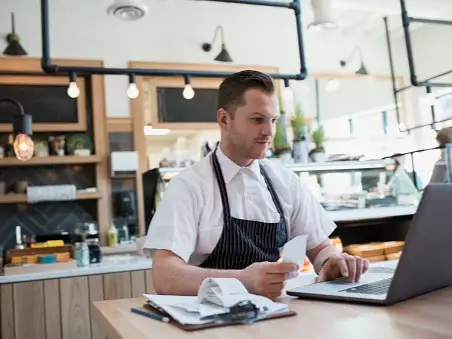 How do you define an invoice?
Before you dive into their differences and similarities, it is important to know the basics. An invoice is a document that the seller sends to the customer to collect payment. Invoices detail the products and services that were provided to calculate the total amount owed.
Description of an Invoice
Invoices are formal payments requests. Therefore, it is important to ensure that you provide accurate and concise information. The following information can be found on an invoice:
An invoice should show who the payment will be made. Invoices should contain the following:
Your business name
Your postal address to pay
Your contact information
This is the place where you will note the customer's details. Include the following:
Name of contact within the company
Name of customer's company
Addresses of customers who are being billed
Description of a Receipt
Because it has similar information, a receipt can often look like an invoice. You'll find information about accounts receivable, payable, and sometimes an itemization for the products or services provided on a receipt. Receipts are distinct from invoices as they serve three specific purposes.
Confirmation Payment
Receipts should be sent to customers after they have paid you. A receipt is merely a confirmation that the seller has received payment.
You must show proof of ownership
Let's assume that you have sold a product. The customer pays you once the invoice has been sent. A receipt serves as proof of ownership and that both parties received the goods. Because the customer is satisfied with the service or product, they issued payment. The seller is the owner of the requested payment.
You must provide proof of purchase
The return process is something you're likely familiar with. If you need to return an article at the store, the clerk will often ask for a receipt. The receipt is proof that the item was purchased in that store. If the customer requests a refund, the receipt will confirm the amount due back to them. Your client must also produce a receipt to prove they bought the product and the amount they paid. This will allow you to determine how to proceed with a refund.
Difference between Invoice and Receipt
Now that you have defined invoices & receipts, let us explore their differences.
Collecting Payment or Confirming Payment
To collect a payment, send an invoice. To confirm payment, you will send a receipt.
This is a subtle distinction, but it makes sense why invoices and receipts are not interchangeable. Incorrectly stating that the client's payment has been received is a mistake. This can lead to confusion throughout the payment process.
The Receipt or Invoice: Which comes first?
Invoices and receipts can be sent at different times in the sales process. When a customer (client) purchases from you after the purchase is completed, you will provide them with an invoice for the purchases.  Your business may offer services instead of products and in this case, once the service is rendered you will provide the client with an invoice for those services.  The invoice will provide the above-mentioned information and will include the payment date requirement.
Once the client or customer pays the invoice you will provide them with a receipt that shows the payment has been made.  This receipt will allow them to have the information for their records but also can be used should any of the products need to be returned.
Receipts and invoices cannot be used interchangeably. Each document is sent on its own time.
Amount Due vs. Amount Paid
An invoice will indicate the total amount due on the product or services. Receipts will only reflect the total amount due, but this is not always true. Some businesses allow partial payments. If this is the case, you should issue a receipt that only reflects the amount of the partial payment.
Invoices requesting $100 should be sent to the customer. If the customer sends $50 in partial payment, the receipt should indicate that only $50 was received and that the remaining $50 is due.
[mpp id="4″]
When do you need to issue invoices and receipts?
Sending invoices, payments, and receipts can seem tedious and time-consuming. Here are two reasons why invoices and receipts both are important for your business operations.
The primary purpose of an invoice is to collect payment. Capital is what keeps your company afloat. Your customers (clients) must pay their invoices on time so that money flows into your business.
Reducing Billing Questions
An invoice that is clear and concise will help you avoid any payment disputes. Both the seller and buyer will be able to see the details of the transaction easily if you have correctly described the products or services your business provided. Each line should add together to reflect the correct amount due.
Also, a receipt eliminates confusion over whether payment has been made. Buyers can challenge an accusation of nonpayment by providing a receipt. A receipt is only issued once payment has been received. The seller must send a receipt to show proof of purchase.
Both Documents Are Legally Binding
Once you have delivered your product/service and sent an invoice, the buyer will be obligated to pay. You can sue the buyer to recover the amount owed if the buyer refuses payment after repeated requests.
It is important to keep track of your receipts, invoices, and other documents so you can understand your business's cash flow. This information is vital for adjusting your business's budget so you may require a software program that can generate invoices and receipts and serve as well as a tracking system.
Software for Invoice and Receipt Recommendations
Not having to send out invoices and receipts can be easy. Not only is it not necessary to spend a lot of money to collect payment from customers, but so can sending invoices and receipts. Here are some free and paid software recommendations for invoices.
It doesn't need to cost you a lot to send professional invoices. These free options can be used to facilitate the payment process.
You probably already have Microsoft Excel installed. If you do, congratulations! Invoicing templates are already available to you. Access to Microsoft Excel is not required if you have an in-browser browser. Excel makes it easy to send invoices to your clients.
Invoicely is an excellent invoicing software that freelancers, as well as small businesses, can use. Invoicely's Free Version allows you to create professional invoices that are personalized with your branding. Its easy-to-use dashboard shows outstanding balances and payments in a single glance. Even the busiest professional can see this and be alerted to make sure they pay.
However, if your accounting software already supports invoicing, you may want to consider a paid option.
FreshBooks makes it simple to create invoices or receipts. Each level you upgrade to receives additional services through their tiered pricing models. FreshBooks Lite is their accounting software. You can also create unlimited proposals and set up automatic recurring invoices.
FreshBooks gives you a 30-day free trial. You don't even need to submit your payment information. FreshBooks accounting software can be used to test it out before you sign up for a paid membership.
The Payment Processor
Small businesses might already have a point-of-sale system or merchant account. You can also create invoices and receipts with payment processors such as PayPal or Square.
You can simplify the payment process by using your processor. To create an invoice, you don't need to create a separate login account on a different platform. It doesn't take long to learn and master new software.
In Conclusion
There are differences between invoices and receipts. They do share similarities, but it is still important to distinguish the key differences between an invoice and a receipt. It is important to associate invoices with payment requests. Receipts must be linked to payment confirmation.
But invoices, as well as receipts, are crucial to your business's success. The right accounting tools can make all the difference in your business' success. No matter if you are using a free tool to invoice or if you invest in paid software, receipts and invoices will ensure that your business is paid promptly and in full.
As your business grows you may need to implement a more expensive invoice and receipt accounting system that makes it easier to track all your invoices and receipts but also track your business expenses such as payroll, inventory, etc.  There are many funding options available at Progressive Business Capital that may allow you to invest in a better system.
One of those options may be a merchant cash advance with same-day funding.  A merchant cash advance is not a loan but is an advance against future credit card sales.  If you would like to learn more please feel free to contact us at (800) 508-4532 or via email at [email protected].