There are a few considerations to keep in mind for those running a small business during the strange times of Coronavirus. These considerations revolve around financing your operation, protecting your customers, protecting your employees, and changing your day-to-day activities in general.
To cope with these changes and operate at peak efficiency, here are three considerations to make as a small business owner to ensure you thrive during and after the pandemic.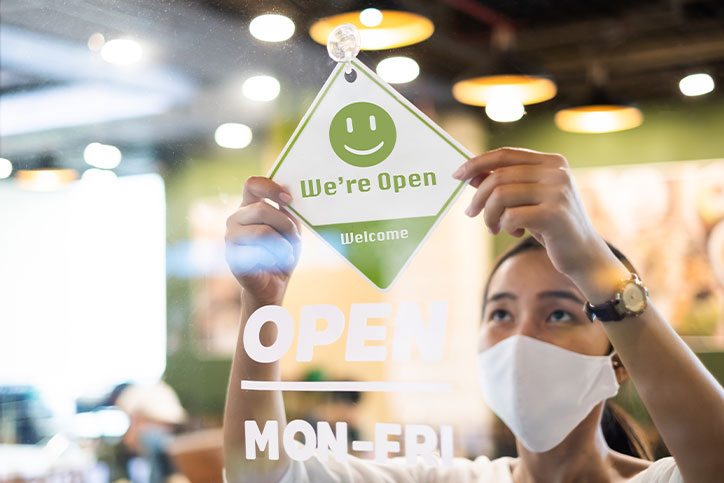 1) Protecting your employees
The first and most pressing consideration you'll need to make is how you are protecting your employees. Taking a few precautionary measures will ensure that you maintain a healthy workforce and retain their trust. Here are a couple of ways to give your employees the protection they need.
Masks
Providing your employees masks is a great first line of defense against spreading the virus.
Plexiglass Shields
The high potential of exposure that employees face when they interact with many customers necessitates a second line of defense. Plexiglass Shields offer even more protection against the virus spread.
Hand sanitizer
Providing your employees with hand sanitizer is another way to protect them from contracting the virus.
Paperless payment only
Another way to protect your employees and customers is to enact a paperless payment only option. Until the virus is contained, only accepting cards and contactless payment is a great way to protect your both parties.
2) Protecting your customers
After your employees are protected, it's time to start thinking about your customers. There are a few policies that should be created to provide a safe experience for your loyal customers while running a small business during coronavirus
Enhanced sanitation procedures
The biggest step that a small business can make is enhancing its sanitation procedures. This includes providing necessary supplies, as well as having staff clean high-traffic areas more frequently.
Require masks
Requiring your customers to wear masks while on your premises will help prevent the spread of the virus. Enforcing this rule protects all of your customers and shows that you have their best interests in mind.
Finances during the coronavirus have become increasingly important. Normal channels of cash flow may become stagnant, and to implement the aforementioned changes funding may be required. To get the job done, businesses may need financing to close the gap until sales and cash flow return to normal levels. Here are a few funding options available to small businesses that need a little extra cash.
Small business loans
Searching for a loan provider and getting a small business loan is one of the fastest ways to control your finances during the pandemic. Several different options range from traditional brick-and-mortar banks to modern online or peer-to-peer lenders.
Government funding
Taking advantage of government assistance is another great way to tide your business over. Checking with your local governments first and then federally funded programs may provide you with assistance without the interest that comes with typical small business loans.
Invest in your future
As a small business owner, the changes and adjustments required to keep your employees and customers safe from Coronavirus can be a bit overwhelming. The important thing to remember is that getting a grip on these three fundamental areas during the pandemic will give you the best chance of coming out on the other side. A little bit of preparation will go a long way in ensuring the longevity of your business and the safety of everyone involved.