If you need a quick source of funding to expand your business, make payroll, buy more inventory for the holiday season, or for any other purpose, you may be looking into fast business loans. But what are they, how do they work, and are they right for you? Our experts will explain.
What Are The Common Types Of Fast Business Loans?
There are a few different types of fast business loans, and they each have some differences that are important to understand. Mostly, fast business loans consist of:
Merchant cash advances
These are not loans at all, but a cash advance based on your future sales. The merchant cash advance (MCA) company pays you a lump sum, say $50K, and then you repay the advance with a percentage of your daily credit card sales (usually between 10-20%) or a daily ACH debit (Monday through Friday). The MCA company will take the "split percentage" or daily debit until you repay the advance at the agreed upon price.
Invoice factoring
This is not technically a loan, either. Instead, an invoice factoring company buys your outstanding invoices for a percentage of their value. Then, the invoice factoring company seeks repayment from your customers. Once the invoice factoring company has been paid, you are paid the remaining amount of your outstanding invoices, minus a service fee.
Online small business loans
These loans are similar to traditional bank loans, but instead of being provided by a brick-and-mortar bank, they are provided by specialty online lenders. You can usually get approved in just 24-48 hours, but you will likely need good credit to get an online business loan.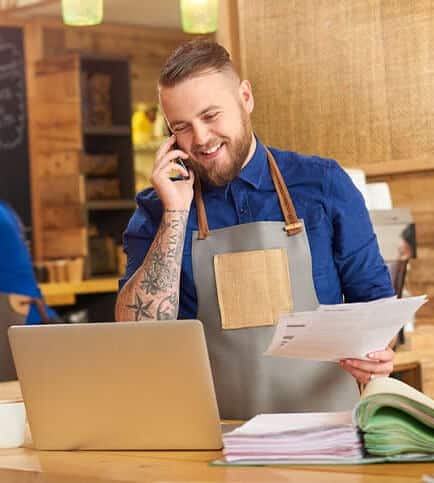 How To Get A Fast Business Loan – Your Guide
Once you've determined what kind of fast business loan is right for your business, there are just a few steps you'll need to take to get a loan.
1: Find a loan provider: Depending on whether you want an MCA, invoice factoring, or an online business loan, you can start looking for reputable lenders who are willing to offer you the cash you need.
2: Check their requirements: Lending requirements for MCAs, small business loans, and other fast business loans will vary depending on the institution you choose. Consult with them directly to ensure you meet their requirements before applying.
3: Apply for a loan with required paperwork & information: Your lender for a fast business loan will provide you with information about application requirements.
If you want a merchant cash advance, for example, the MCA company may ask for proof that you have been in business for 6 months, and that you meet a minimum threshold of monthly sales.
4: Get approved & get your loan: Once you have applied for a fast business loan, you'll be approved as long as you meet the lender's requirements. Your loan amount will be deposited into your bank account once it has been processed.
Then, you can use the cash for operational expenses, investing in new projects, expanding the services or products you offer, or anything else you may need money for as a small business owner.
Find & Apply For The Right Fast Business Loans Today!
Fast business loans are a great way to boost your cash flow and get the working capital you need. So think about what you've learned in this guide, and if you need an MCA or online business loan, Progressive Business Capital is here to help. Apply now to get started, or feel free to contact us if you have any questions about what we do – our team is always ready to help small business owners.